The Next Generation solution for industrial on-line moisture sensing
Wavetester is an innovative system for the non-invasive (contactless), non-destructive and real-time moisture analysis of materials, based on microwaves.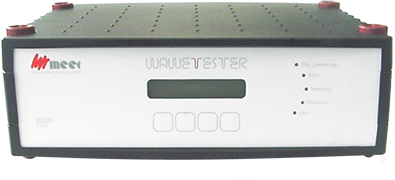 The Problem:
Many industries need an accurate and continuous monitoring of the water content of materials being processed. The sensor should measure the entire volume of the material, provide fast results, require no maintenance and have a long lifetime...
The Solution:
Wavetester™. Its innovative operating principle does not require any contact with the material to be analyzed, yet it allows scanning through its entire cross section. The results are that no moisture "hot spots" go undetected and that the sensor is not subject to any abrasion or wear, therefore lasting almost forever.
How it works:
A low power microwave signal is sent through the sample. The system compares the transmitted and the received signals by means of sophisticated signal processing hardware and software algorithms and extracts 3 or more moisture readings per second.
Wavetester has been developed in cooperation with the researchers at the TTHFLab of SUPSI (University of Applied Sciences of Southern Switzerland) and is the result of many years of research.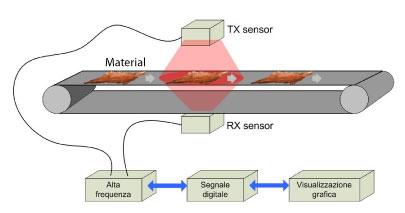 Application areas:
product quality control
closed loop moisture control
cost optimization and output control in drying processes
organic products' storage monitoring
etc.

 
A few application examples: (click on the images to enlarge)
| | | |
| --- | --- | --- |
| water addition dosage (concrete production) | | |
| | |   |
| drying control in leather industry | |   |
Questions? Visit our Frequently Asked Questions (FAQ) section about the Wavetester.
Wavetester is a registered trademark of MEET Ltd.