16-Channel Digital Input / Output Module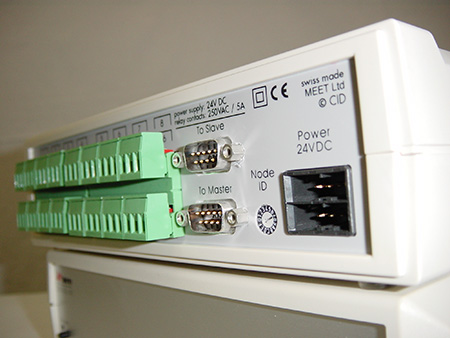 DIGIO-01 is an universal peripheral that adds digital input and high power output capabilities to a personal computer or other data terminals (DTE). The DIGIO-01 contains state of the art electronic circuitry including a powerful microprocessor. Its low cost, rugged construction and flexibility make it ideal for a variety of applications in industry, education and home.
Built-in networking capabilities allow to connect a chain of up to 15 DIGIO-01's to a single computer's RS232 port. Full interoperability to other module types (e.g. ADIO-01) is guaranteed.
needs no card to be installed in the computer
16 opto-isolated digital inputs (0V ....35V)
16 digital outputs (SPDT relays with 250V / 8A contacts)
confortable 2-component connectors on all inputs and outputs
cascaded RS-232 interface allows connection of multiple modules (up to 15) to a single PC serial port
with up to 16 I/O channels per unit, a total of 240 possible channels can be controlled using a single PC serial port
free LabVIEW and C driver software
custom software available on request
very flexible and low cost
Applications:
Industrial Controls (PC-DAQ), Functional Test of boards and systems, PLC replacement, Laboratory, Education, Assistive Technology 
| | |
| --- | --- |
| | Download the DIGIO-01 Datasheet (36kB) |
| | Download the DIGIO-01 User Manual (96 kB) |