|  | 
Programmable HID (Human Interface Devices) for personal computers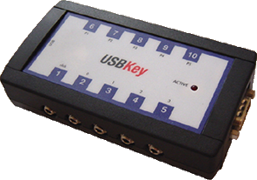 USBKey is a programmable HID (Human Interface) device with 10 configurable inputs as well as an integrated RS-232 serial port. When plugged into a USB port of any personal computer (PC, Mac), it is immediately recognized as a HID peripheral (keyboard, mouse), without requiring any additional software driver installation.
Each of the 10 inputs can be freely and independently configured as:
a mouse button (left, middle, right)
any key of an extended 101 keys keyboard (including the function keys and the numeric keypad)
When one of these inputs is activated, the computer will behave as if a standard mouse or keyboard had generated the command. Being supported by all major operating systems, this functionality will work with any application software.
USBKey Pro extends the original USBKey capabilities with wireless communication. All the existing features and the mechanical dimensions are maintained, but in addition to handling wired input signals (typically connected to electromechanical switches) it can also respond to wireless signals transmitted by compatible RadioButtons and RadioSensors, also available from MEET. The total number of inputs that can be translated to any keyboard, mouse or phantom command is therefore extended from originally 10 to 48 (10 wired + 38 wireless).
USBKey and USBKey Pro also have the following additional features:
hidden (phantom) inputs: an input configured as "hidden" will only be recognized by applications designed to make use of this function. This can be easily implemented by using our API software functions and code examples.
a RS-232 serial port is available and can be useful when the personal computer to which the USBKey is connected lacks of such an interface
BlueUSBKey and BlueUSBKey Pro are similar to the USBKey and USBKey Pro counterparts, with the added capability to connect to a personal computer or tablet by means of a built-in Bluetooth®5 interface. While maintaining all the USBKey [/Pro] functionalities and their mechanical dimensions, they furthermore provide the following new features:
battery operation (with built-in rechargeable Li-ion battery), in addition operation from external USB 5V power supply
5 configurable analog inputs
4 potential-free output contacts capable of switching loads up to 24V
Applications:
custom keyboards and keypads on PC based machine tools and instruments, building controls, ....

 

Assistive Technology
Read more here....

 
USBKey is also available in an OEM version, without enclosure: