---

Timeline of Events and Messages
Details
Xilinx Partnership Alliance signed
continue reading ...
After having successfully qualified in all the selection criteria, today MEET officially signed an Alliance Partnership agreement with Xilinx Inc. (www.xilinx.com), the worldwide leader in programmable logic (FPGA) solutions. This important milestone rewards MEET's commitment to engineering excellence, in the fields of hardware and embedded systems. Within this agreement, Xilinx will act as a distribution partner of IP cores designed by MEET and tailored to Xilinx FPGA chips. MEET has designed and successfully commercialized IP cores containing building blocks or entire sub-systems for high performance servo motor control systems, such as those used on precision machine tools with numeric control.
Please contact us for more information about our IP cores.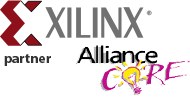 ---
Details
MEET introduces new products for infrared (IrDA) and Wireless communication
continue reading ...
The new modules "IrDA Adapter", having the shape of a normal RS-232 connector (without cable), contain all the electronic circuitry and the protocol stack to interface any RS-232 enabled equipment (PC, laboratory instruments, etc.) with IrDA devices. The modules are self-powered directly from the RS-232 interface and make any device with an RS-232 interface (even the simplest microcontroller) instantly capable of communicating with IrDA peripherals.
These adapters are available with a plastic enclosure or as bare printed circuit board (OEM version).
Similarly to the IrDA adapter, we also introduce a "radio" equivalent, where the wireless transmission of the RS-232 is carried over radio waves (ISM band, 900 MHz), instead of infrared. 
---
Details
FIPPD to use products designed by MEET as assistive devices
continue reading ...
FIPPD (Fondazione Informatica per la Promozione della Persona Disabile), an organization active in the applied research and implementation of technologies to support disabled persons will make use of products from MEET (ADIO, DIGIO, USBKey) to extend the functionality and accessibility of some of their upcoming revolutionary software products: ADIOScanX, AccessX and Predictor.  
Read more about FIPPD's software tools. 

---